Lake Waconia, the second largest lake in the metro area, is windy, making it a popular destination with kiteboarders and windsurfers while offering opportunities to fish, water ski, sail, paddleboard, and swim. The lake and surrounding landscape provide habitat for bald eagles, egrets, blue herons, pelicans, cormorants, and owls, offering spectacular options for birding. In the winter, Lake Waconia becomes a city unto itself, with hundreds of ice-fishing houses forming a winter community.
Recognized as a Tree City USA by the Arbor Day Foundation, the Waconia area supports over 25 local neighborhood and regional parks and miles of bike trails; Waconia enjoys some of the best biking in the state of MN. In addition, our residents enjoy Island View Golf Course, Lions' baseball field, an indoor ice arena, and Safari Island Community Center.

Lake Waconia / Coney Island
Located on the northern edge of the City of Waconia is beautiful Lake Waconia. Lake Waconia is the largest lake in Carver County and the second-largest in the Twin Cities seven-county area. Additional lakes in the area include Reitz Lake, Piersons Lake, Parley Lake and Hydes Lake. Coney Island, part of Lake Waconia Regional Park, is located in the middle of the lake towards the southern end.
In the summer, Lake Waconia hosts a multitude of recreational activities: sailing, boating, fishing, water-skiing, tubing, jet-skiing, paddling, pontooning and swimming. In the spring, late summer, and fall, the wide-open waters and seasonal winds attract windsurfers, sailboarders, sailors, and kiteboarders from miles around. Find out more on the Summer Recreation page.
Lake Waconia becomes a city unto itself in the winter, with hundreds of ice-fishing houses forming a community of anglers enjoying a Minnesota winter. Learn more on the Winter Recreation page.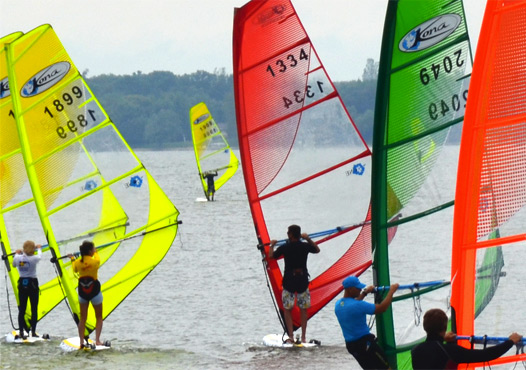 Excellent Seasonal Winds
"Lake Waconia is the most popular high-wind lake in the Twin Cities metro area and has been the site for over 60 windsurfing regattas, starting with the Windsurfer District 5 Championships in 1978."

Waconia welcomes tens of thousands of visitors to it's downtown, lakes, parks and trails. Those numbers skyrocket during the area's many annual outdoor events like the Carver County Fair, July 4th Fireworks, Nickle Dickle Day, Lola's Half Marathon, and The Waconia Rodeo,
Lake Waconia Regional Park
Location: East of Waconia at 8170 Paradise Lane
Hours: October to April: 8:00am – 9:00pm or sunset, whichever is later.
May to September: 8:00am – 10:00pm or sunset, whichever is later.
Lake Waconia Regional Park has a swimming beach, play equipment, picnic shelter, volleyball area, and a sledding hill in the winter. The park is currently being developed into a 130-acre regional park. More park details from Carver County
Carver Park Reserve
Location: 7025 Victoria Drive, Victoria (8 miles from Waconia, north of Victoria on County Road 11)
Hours: 5:00am – 10:00 pm
Carver Park Reserve is home to the Lowry Nature Center, Grimm Farm Historic Site and King Waterbird Sanctuary. The 3,719 acre park has abundant wildlife, trails, wooded terrain, lakes and marshes. The area offers a full range of activities and opportunities including nature education at The Lowry Nature Center. Park activities include archery, biking, boating, camping, paddling, cross-country skiing, dog off-leash, dog trails, fishing, geocaching, hiking, horseback riding, living history, nature education, picnic areas, play areas, sledding, snowmobiling, and snowshoeing. More details from Three Rivers Park District
Baylor Regional Park, Onan Observatory
Location: 10775 County Rd. 33, Norwood Young America (7.8 miles west of Waconia)
The park provides a beautiful picnic and recreational setting next to Eagle Lake. The 201-acre park offers 50 camping sites. Thirty-five sites have water and electrical hookups. Other facilities include showers, beach house, swimming beach, lake access (boat ramp), 18-hole disc golf, 2 reservable picnic shelters, reservable community room with A/C, ball field, sand volleyball court, playground, tennis court, horseshoe pits, five miles of trails for hiking and a ¼ mile boardwalk. The park has two shelters and a community room. The beach shelter is situated overlooking Eagle Lake; the Prairie Shelter overlooks park grounds and the cattail marsh and is conveniently located next to a ball field. The Community Room is inside a remodeled 1935 barn and is available year-round. More details from Carver County about Baylor Regional Park
Baylor Regional Park is home to the Onan Observatory, a state-of-the-art facility operated by the Minnesota Astronomical Society (MAS). More details about Onan Observatory are available from the Minnesota Astonomical Society
Minnesota Landscape Arboretum
Location: 3675 Arboretum Drive, Chaska MN (9.3 miles east of Waconia)
The Arboretum is part of the University of Minnesota and the largest public garden in Minnesota, with 1,000 acres of rolling hills, 74 specialty gardens and plant collections, and more than 5,000 plant varieties. Open year round, the Arboretum offers seasonal walking and tram tours, hiking and cross country ski trails – plus a Library, Tea Room, Gift Shop and Conservatory. More details from the Minnesota Landscape Arboretum
Lake Minnewashta Regional Park
Location: 6900 Hazeltine Blvd., Chanhassen, MN 55331 (13.6 miles northeast of Waconia)
Lake Minnewashta Regional Park is a 340 acre developing park on the shores of Lake Minnewashta. Facilities include a swimming beach, bathhouse, concession stand, reservable picnic shelters, volleyball courts, creative playground, an 18-acre off-leash dog park and public boat access. More details from Carver County
Brook Peterson Community Park & The Lions Club Skate Park
Location: 1200 Oak Avenue
Hours: 7:00am – midnight
Brook Peterson Park is 40 acres and includes playground equipment, baseball and softball fields, ice hockey rinks, a concession stand and The Lions Club Skate Park. Skate Park hours are 7:00am – 11:00pm. The Skate Park is open to all skill levels of skateboarders, in-line skaters and BMX bike riders. More details from the City of Waconia
Cedar Point Park
Location: 130 North Cedar Street (at the corner of North Cedar Street and Lake Street)
Hours: 6:00am – 11:00pm
Cedar Point Park is 5.2 acres and has two tennis courts, a basketball court, play equipment, picnic tables, grills, walking trails and a fishing pier. The walking path along the shore of Lake Waconia continues west along Waconia Parkway to the Sugarbush and Willowbrooke subdivisions. More details from the City of Waconia
City Square Park
Location: 101 East Main Street (Main Street between Pine and Spruce Streets)
Hours: 6:00am – 11:00pm
City Square Park is 2.5 acres and includes playground equipment, walking paths, covered picnic shelter area, war memorials and gazebo. Use of grills, restrooms and drinking fountains are available seasonally. Dogs are not permitted. This park serves as a gathering place for picnics, weddings, church services, playgroups, and community events, including Nickle Dickle Day, Music in the Park, Movie in the Park and the annual Holiday Tree Lighting Program. More details from the City of Waconia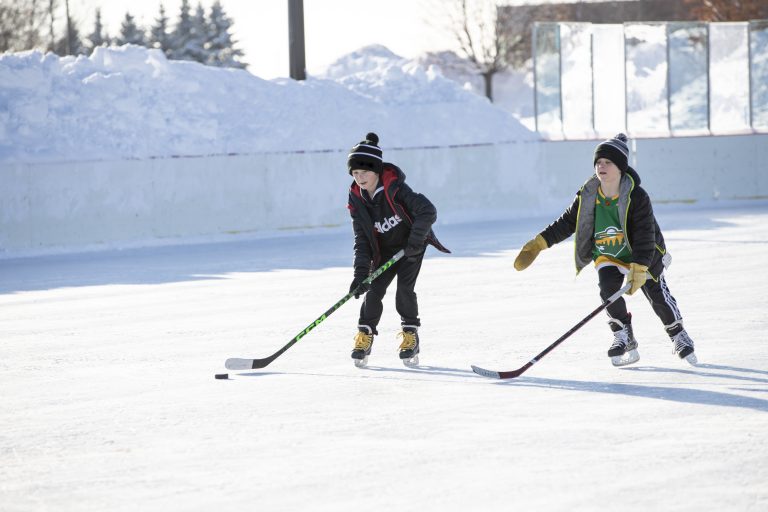 Bent Creek Park: 1401 Mockingbird Drive
4 acre park with play equipment and trails
Clearwater Mills: 300 15th Street East
2 acre park with play equipment, open space
Fountain Park: 200 Second Street West
Open space
Fox Run Park: 1205 Highway #284
2 acre park with play equipment, a t-ball field and trails
Hilks Lake Park: 1568 Woodlawn Circle
1 acre park with play equipment
Lakeview Terrace: 50 Lakeview Terrace Blvd
6.5 acre park open space area, play equipment
Legacy Village Park: 860 Vista Blvd
Playground equipment
OakPointe Park: 1431 Sparrow Road
2.69 acres playground, basketball & tennis courts picnic areas
Old Towne Park: 1 First Street West
Park bench a couple of trees and some grass
Pheasant Ridge Park: 1150 Burandt Boulevard
1.5 acre park with play equipment and trails
Pinehill Park: 1262 Pinehill Boulevard
Play equipment
Sudheimer Park: 1500 Barton Street
Open space
Sugarbush Park: 1255 Waconia Parkway North
4 acre park with play equipment, a ball field and trails.
Vista Point Park: 829 Vista Boulevard
Drinking fountain, gazebo
Waterford Park: 1702 Ravencroft Road
Play equipment, walking trails, open space, grills, covered picnic area
Wildhurst Park: 1300 Highway 284
.5 acre park with play equipment and trails.
Windmill Creek Park: 1140 Windmill Creek South
Play equipment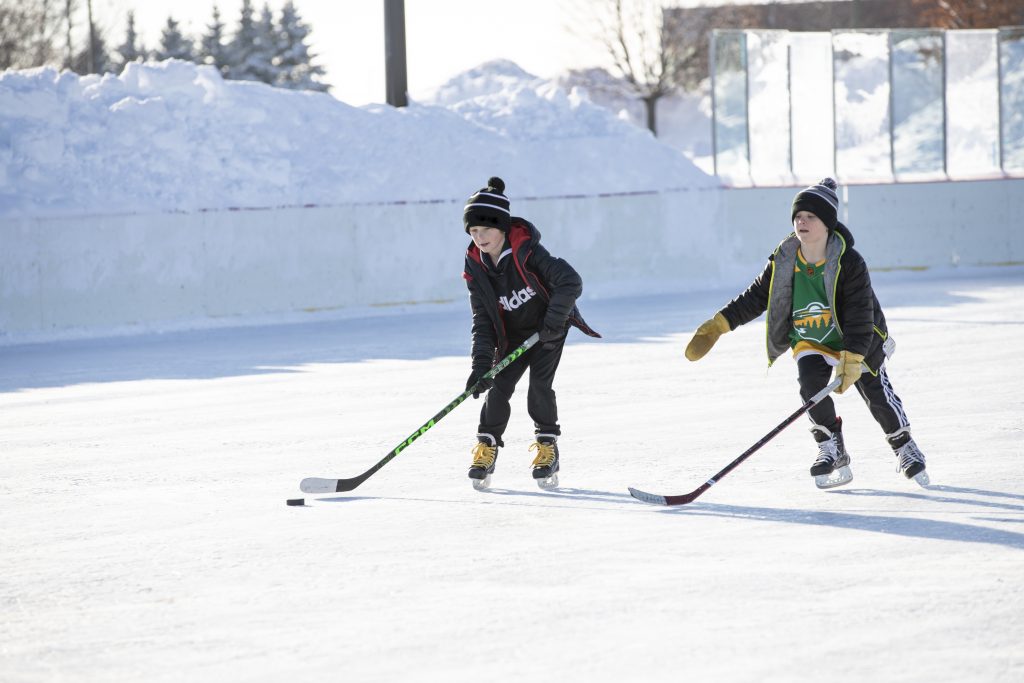 Baylor Regional Park Campground is about 10 miles southwest of Waconia. Baylor has 50 campsites. Park amenities include playgrounds, walking trails, horseshoe pits, sand volleyball courts, beach facility, paddle boat rental, canoe rental, multi-use field, play equipment, observatory and picnic shelters.
Lake Auburn Campground in Carver Park Reserve is about 7 miles east of Waconia. This 57-site campground is located near an unguarded beach, play equipment, miles of trails and other park amenities.
For other campgrounds check Three Rivers Park District.
Deardorff Orchards apple barn/gift shop is open for the apple season, with all the favorites—early-season Zestar®, SweeTango®, and Chestnut Crab apples; mid-season Ruby Mac, Red Baron, Cortland, Honeycrisp apples, Sweet Sixteen apples, and McIntosh apples; as well as late-season fireside, Haralson, Honeygold and Regent apples.
Carlson's Llovable LLamas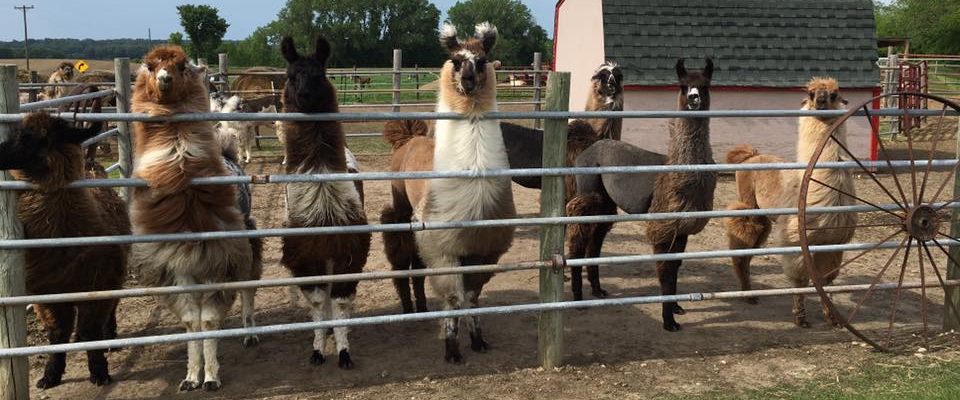 Carlson's Llovable Llamas farm visits are a favorite adventure of kids and adults alike. Plan your visit!